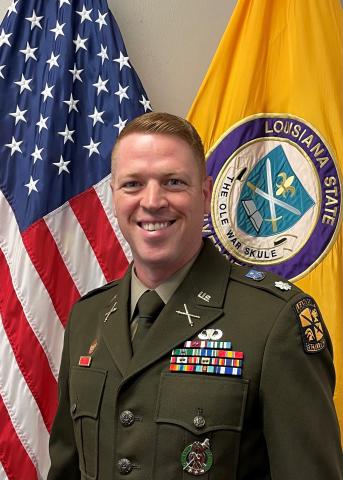 Lieutenant Colonel (LTC) Michael K. Smith
Professor of Military Science
Army Reserve Officers Training Corps
Louisiana State University and A&M College
University of Louisiana at Lafayette
Phone (225) 578-2122
Email: michaelsmith@lsu.edu / michael.k.smith234.mil@army.mil
Lieutenant Colonel Michael K. Smith is a native of Alabaster, AL. He commissioned as a Chemical Officer in the US Army in May 2005 before branch transferring into the Field Artillery in 2009. He holds a BS in Criminal Justice from Troy University and a Master of Military Operational Art and Science from Air University.
LTC Smith has served in various positions from Platoon Leader, Battery Commander, Battalion Operations and Executive Officer, Brigade Operations Officer and Assistant Professor of Military Science. His assignments include A/2-5 Field Artillery, HHB/2-5 Field Artillery, 3-340th Infantry Battalion, Birmingham Recruiting Company, Fires Battle Lab/Capabiliies Development Integration Directorate, 2-2 Field Artillery, 428th Field Artillery Brigade, Florida State University (FSU) and Louisiana State University (LSU).
LTC Smith served two combat tours during Operation Iraqi Freedom and Operation Enduring Freedom in Afghanistan.
LTC Smith's military education includes the Chemical Officer Basic Leader Course, Field Artillery Captains Career Course, Recruiting Commanders Course, Air Command and Staff College, Common Faculty Development-Instructors Course, and Airborne School.
LTC Smith's awards and decorations include the Meritorious Service Medal (4), Joint Service Commendation Medal, Army Commendation Medal (2) , Army Achievement Medal, Meritorious Unit Commendation, National Defense Service Medal, Afghanistan Campaign Medal (2), Iraqi Campaign Medal (2), Global War on Terrorism Service Medal, Army Service Ribbon, and the Overseas Service Ribbon (2).
LTC Smith is married to Rebecca Smith from South Lake Tahoe, CA. They have five children; William (14), Carson (13), Jordyn (13), Emmerson (11), and Deacon (8).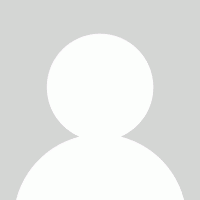 Captain (CPT) James A. Hogshead
Officer-in-Charge (University of Louisiana-Lafayette)
Assistant Professor of Military Science (LSU)
Office: Brooks Annex 2, Room 204
Phone (337) 262-3358
Email: TBD@louisiana.edu / rotc@louisiana.edu
CPT Hogshead will be joining our team in August 2022.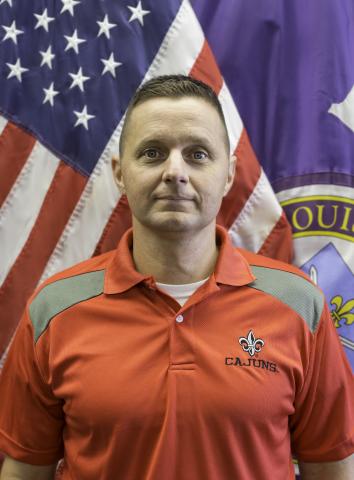 Mr. Brian L. Spears
Senior Military Science Instructor, Contractor
Team ROTC - CornerBrooke, LLC
University of Louisiana-Lafayette
Office: Brooks Annex 2, Room 204
Phone (337) 262-3365
Email: brian.spears1@louisiana.edu / rotc@louisiana.edu
A native of Crowley, LA, Mr. Brian Spears graduated in 1997 from the University of Southwestern Louisiana with a Bachelor of Science Degree in Business Administration, and completed USL ROTC training before being commissioned as a Second Lieutenant in the Infantry.
Mr. Spears served for 20 years in the active Army in numerous leadership positions that included: Mechanized Rifle Platoon Leader, Company Executive Officer, and Brigade Comptroller (Fort Benning); Basic Training Company Executive Officer and Company Commander (Fort Benning, GA); G3 Operations Officer and Rifle Company Commander (Fort Campbell, KY; Mosul and Kirkuk, Iraq); Company and Battalion Observer/Controller (Fort Polk, LA); Battalion Operations Officer and Executive Officer (Fort Campbell, KY and Kandahar, Afghanistan); Foreign Military Advisor (Riyadh, Saudi Arabia); Division/Corps Staff Observer/Controller and Plans/Operations Chief for Warfighter Exercises at the Mission Command Training Program (Fort Leavenworth, KS).
Mr. Spears' military education includes the Infantry Officer Basic Course, Airborne School, Bradley Leader's Course, Infantry Captain's Career Course, Combined Arms and Services Staff School, Ranger School, Air Assault School, and the Command and General Staff College. While on active duty, he also graduated from Webster University with a Master's in Business Administration.
Mr. Spears has been with the Univeristy of Louisiana at Lafayette ROTC extension program of the Louisiana State University ROTC Battalion since October of 2018. 
Mr. Spears retired at the rank of Lieutenant Colonel. He and his wife, Jamie Jo, have three children, Lawrence, Emily, and Christopher. The Spears reside right here in Lafayette, LA.